Hair loss is a fairly common problem that significantly affects our image. In addition to changing looks, hair loss can also result in lower self-esteem and more complex psychological problems. There are many natural treatments that effectively strengthen hair and eliminate bald places.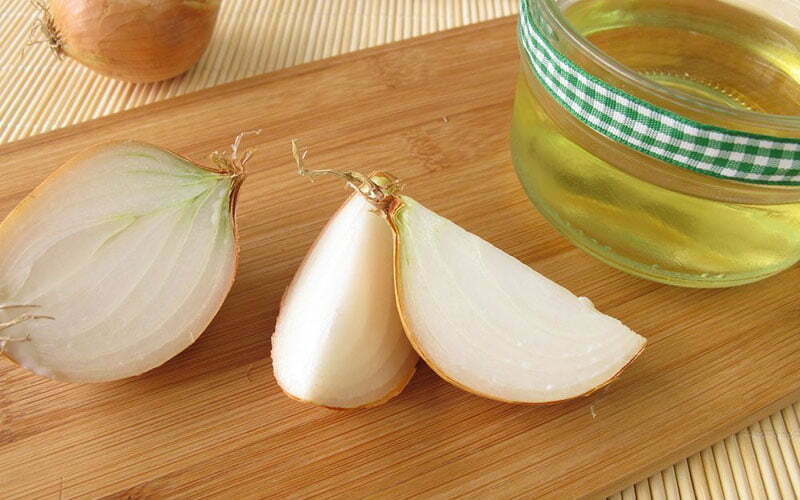 For the natural treatment of hair loss, we use the health properties of herbs. Herbs are inexpensive and free of side effects, they can be taken orally or directly on the scalp, depending on the type of herbs used. In this article we will deal with herbs intended for external use.

It turns out that common onion is a great remedy for hair loss, and it owes it to high sulfur and quercetin content. Sulfur builds hair and acts antiseptically, that is, protects hair against fungi, bacteria and parasites. The reason for hair loss is often a bad condition of the scalp. In this case, onion is an ideal remedy. The second ingredient, that is, quercetin, has a strong antioxidant and antihistamine effect. It is believed that quercetin gives particularly good results in alopecia areata.
How to use onions for hair growth? The first thing is to squeeze the onion juice. The easiest way is to mix the onion first, then squeeze it through a plastic strainer or piece of fabric. The juice obtained in this way rub into the scalp twice a day. To make the mixture absorb better into the skin, you can add a little oil.
Henna is commonly used for coloring eyelashes, but few people know that it also has health-promoting properties for hair. Henna contains enzymes, minerals and vitamins, among others: magnesium, potassium, zinc, iron, manganese, copper, oleic acid, linoleic acid, vitamin A, vitamin D, vitamin B. All herbalists know that henna is an effective remedy for hair loss. It naturally nourishes the scalp and regenerates the hair follicles. Only pure henna is suitable for the treatment of hair loss. When buying henna, make sure that there are no additives.
Another good herb for strengthening the hair is a safflower. The oil from this plant is a source of oleic acid, which nourishes hair follicles and contributes to improving the condition of the hair. This oil is widely known for its beneficial properties for the skin and hair, which is why it is an active ingredient in many cosmetics.
Other plants that prevent hair loss include rosemary, lemon grass and Capsicum. They are the basic ingredients of many herbal preparations and dietary supplements, used to improve the condition of the hair.
If you decide to take natural therapy, remember that herbs do not work day by day. To succeed, regular and long-term herbal application is necessary. However, success is guaranteed, and the additional advantages of herbal treatment are safety and additional health benefits resulting from the holistic action of herbs.