Anyone can buy Laminine at wholesale price
More than 80% of the users of Laminine, who signed up as a distributor of the company LPGN (IBO), buys the product exclusively for their own use. They are not interested in selling Laminine and just enjoy the fact that they can save a significant amount compared to buying in retail price.
To be eligible to purchase at wholesale prices, you have to buy a single Starter Kit. If you buy a larger (more expensive) set, then it will lower the unit price. Purchase and registration is done on the website of the manufacturer.
Lifepharm recommends taking two capsules two times daily for the first two weeks, and then one capsule once a day. It will give you three packages for the first month. Three packaging is the minimum size of the wholesale Starter Kit.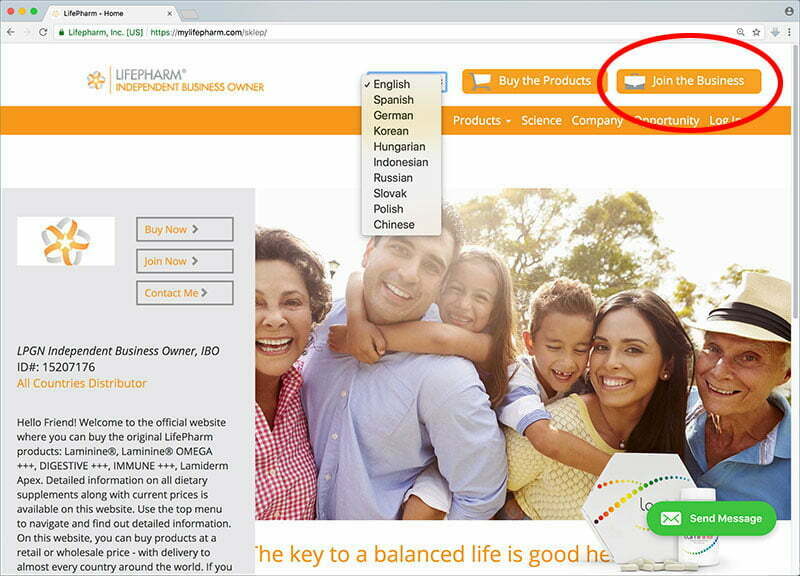 We are confident that when you will see what miracles makes Laminine, you will want to share the good news with your family and friends. If someone asks you "where to buy Laminine?", you can refer to the Web page you're viewing or for your own online store, which will be automatically created at the time of the first wholesale purchase. You may find that Laminine gives you not only health, but also "a few pennies."
BUSINESS OPPORTUNITIES – A PASSIVE REVENUE SOURCE (pdf)
Registering as a distributor does not obligate to purchase subsequent products or sell them to anyone else. You can order only on your own needs and save approximately 25% compared to retail prices.
Purchases at wholesale price and business opportunities are available in these countries: Australia, Austria, Belgium, Bosnia and Herzegovina, Bulgaria, Canada, Croatia, Czech Republic, Denmark, Estonia, Finland, France, Germany, Ghana, Greece, Hungary, Indonesia, Ireland , Italy, Kazakhstan, Latvia, Lithuania, Luxembourg, Macedonia, Malaysia, Malta, the Netherlands, New Zealand, Philippines, Poland, Portugal, Romania, Russia, Serbia, Slovakia, Slovenia, South Korea, Spain, Sweden, Switzerland, Ukraine, United Britain, United States.
When you click on the link below the text, you will be taken to the manufacturer's website, where you will be able to register and buy at wholesale price.
How to sign up as a distributor of Laminine
Open the web page of the manufacturer
Select your country of residence.
Select a Starter Kit that will fit your needs. If you want to, you can order an automatic, monthly supply of products (auto-delivery). It is worth to think about it if your condition requires long-term treatment.
Enter the delivery address, confirm and… done. Within a few days the parcel will arrive to you.
After you finish the purchase process, you will get access to a "virtual office" where you will be able to order additional packs of Laminine.