Lifepharm's Omnia is a unique dietary supplement that has been created to regenerate and rejuvenate skin cells. Thanks to this, you can avoid the use of expensive aesthetic medicine treatments and achieve the same goal using natural regeneration processes. Omnia is composed of widely known and repeatedly tested ingredients that are characterized by a beneficial effect on the skin. Try the operation of this innovative product and see for yourself its highest effectiveness!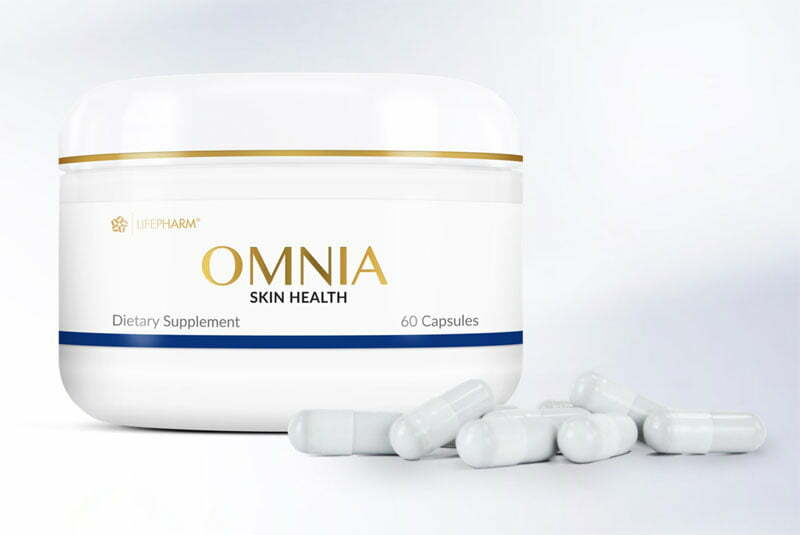 Expected effects of the treatment:
Protection against damage to skin cells.
Strengthening skin regeneration processes.
Supply of essential nutrients.
Improving the structure and appearance of the skin.
The preparation also contains collagen, minerals and moisturizing substances that give additional benefits: less wrinkles, smoother skin, more youthful appearance and glow of the skin. In addition to improving the appearance and health of the skin, the effects of this dietary supplement will also be visible in hair and nails. We've outlined the basic features of the Omnia dietary supplement below. In addition, the preparation contains hyaluronic acid, L-Cysteine ​​and natural collagen.
Unique chicken egg extract, patented by Lifepharm:
Thanks to bioactive factors, it stimulates collagen and elastin production.
Thanks to the fibroblast growth factor, it supports skin cell regeneration.
Strengthens and lengthens collagen and elastin fibers. Thanks to this, the skin looks younger and wrinkles are smoothed and shallow.
Spirulina.
Protects the skin against the harmful effects of sunlight and prevents the natural aging process.
Provides valuable antioxidants that soothe skin inflammation.
Is a source of amino acids that are necessary to build healthy skin.
Red clover
Provides an adequate level of skin moisture.
Smoothes and brightens the skin.
Provides valuable nutrients.
A full set of vitamin B.
Deficiencies of B vitamins are one of the causes of skin, hair and nail health problems. Changes in pigmentation and dry skin can be eliminated by providing essential nutrients, including B vitamins.
Thiamine (vitamin B1).
Riboflavin (vitamin B2).
niacin (vitamin B3).
pantothenic acid (vitamin B5).
pyridoxine (vitamin B6).
biotin (vitamin B7).
folic acid (vitamin B9).
cyanocobalamin (vitamin B12).
Antioxidants and microelements.
They support the work of the circulatory system, which helps provide nutrients where they are needed most. Antioxidants protect against the harmful effects of environmental factors and slow down the aging process. Grape seed extract, selenium, zinc and magnesium are essential for skin, hair and nail health.