The study on a group of 20 women aged 35 to 65 was carried out by Dermatest GmbH in 2017. The women who participated in the study used Lamiderm Apex twice a day on clean facial skin – in the morning and in the evening in 4 weeks. In the measurements of skin properties, the effectiveness of reducing wrinkles and the degree of lightening of age spots and improving skin elasticity were taken into account.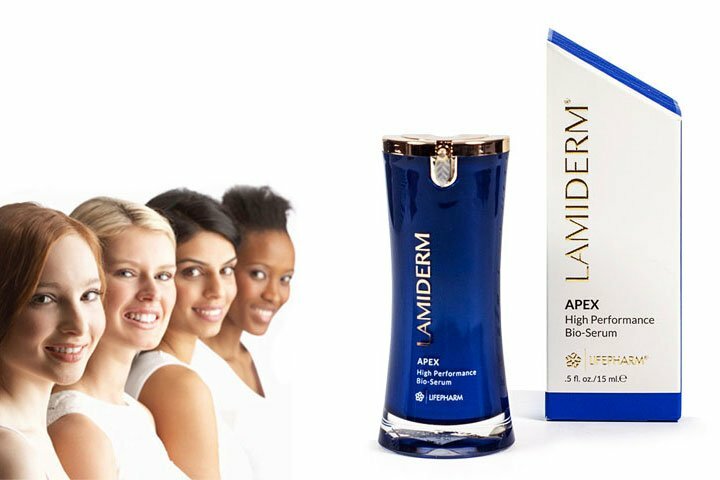 The wrinkle depth was measured using the PRIMOS 3D in-vivo measurement device, which measures the depth of the fold of the skin of a single wrinkle. The measurements showed an average reduction of wrinkles by more than 30%. Skin elasticity was tested using a specialized instrument (Cutometer MPA 580 Fa). It was found that the observed changes showed an average increase in skin elasticity by over 14%. The degree of brightening of age spots was tested by spectrophotometry (CM 700d by Konika Minolta Sensing). The results showed an average brightening of age spots by over 7%.
Ingredients of Lamiderm Apex
The basic component of this serum is a 9-day fertilized hen egg extract and high-quality protein derived from shark and pea cartilage. The LifePharm product also contains several growth factors, including fibroblast growth factor. They have been identified as stimulating the production of collagen, elastin and fibronectin in the skin. Fibroblasts are the largest cells in the skin and connective tissues, the main function of which is the secretion of collagen and elastin to obtain strength, texture and functionality of the tissue. Stimulation of fibronectin fibers contributes to the stimulation of skin regeneration – fibronectin is an extracellular matrix fiber that is responsible for repairing wounds and reducing scars.
Lamiderm Apex also contains a composition of blueberry, pomegranate, strawberry, kiwi and cranberry extracts that have strong antioxidant properties and reverse the damage caused by UV radiation. Extract from alpine herbs and plants has shown efficacy in brightening age spots. The effect is enhanced by vitamin C, which is also an effective skin lightening agent.
The Lamiderm Apex serum received a high rating (five stars) from Dermatest GmbH – it was dermatologically tested in terms of clinical safety and no allergic reactions were confirmed. There were no irritations caused by long-term use of the preparation. Because the study showed that it is effective in the context of reducing wrinkles and age spots and increasing skin elasticity, it has also obtained high scores in terms of effective skin quality improvement.
Laminine supplementation stimulates skin elasticity and collagen production by providing growth factors and nutrients. Laminine provides high quality proteins, amino acids, peptides, vitamins, phospholipids and nutrients important for nourishing cells of all types. In clinical trials, protein supplements have been shown to affect the texture, elasticity and thickness of human skin. The simultaneous use of an oral supplement and application of the Lamiderm Apex serum clearly helps to reduce wrinkles, increases elasticity (firmness) and fades the age spots.