Laminine may be treated as a food rich in nutrients. It is a blend of egg tissue extract and proteins, derived from fish and plants. The unique combination of active ingredients of Laminine is called Opt9. Each capsule of Laminine contains approximately 620 mg Opt9. The remaining contents of the capsule are the silicon dioxide (silica), and magnesium stearate. Laminine is a powder contained in a vegetarian capsule.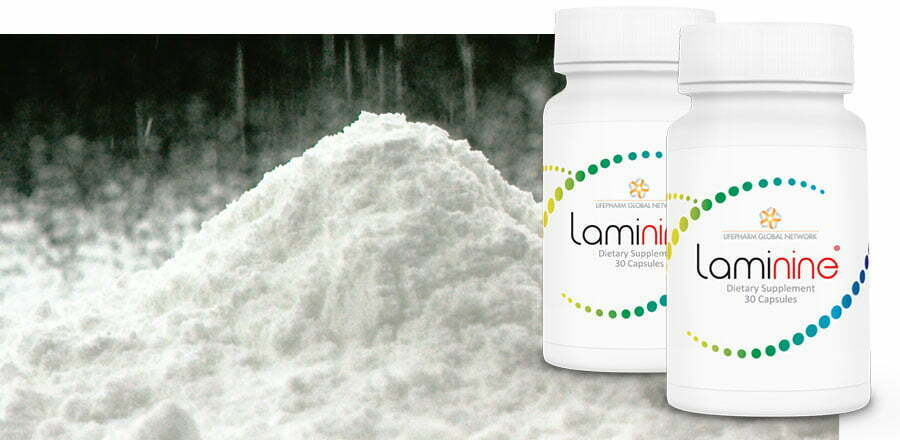 Core components:
extract from the fertilized bird eggs, 316 mg;
a protein of marine origin, 266 mg;
protein of plant origin, 24 mg.
Other ingredients:
magnesium stearate (needed in technological process);
silica (anti-caking agent);
gelatin vegetarian restaurants (capsule);
microcrystalline cellulose (bulking).
Extract from the fertilized bird eggs
It is also known as "the tissue extract of fertilized chicken eggs". This is the primary component of Laminine. Its health-giving properties invented doctor John Ralston Davidson, who in 1929 was looking for a cure for cancer. About 50 years later, studies were continued in Norway by Bdjodne Eskeland. He called the substance "Young Tissue Extract" (YTE) and has demonstrated its positive effects on health. In the mid-1990s study of YTE have gained popularity in the medical world. In the Canadian television show about cancer treatment, extract was presented as an important discovery. Clinical studies have confirmed that the Young Tissue Extract affects the cell repair, regeneration and reproduction.
In 2012, the LifePharm Global Network has developed a technology for obtaining the extract of YTE from eggs produced in farms where chickens are reared in the organic conditions and without the use of hormones. LPGN has developed a technology, which allowed for the processing of liquid extract, preserving the structure of the peptide chains. The powder which is the most important component of Laminine, is produced in this way.
Marine and vegetable protein
Protein extracts contained in Laminine come from three sources. These sources include: cartilage fish, marine plants and yellow peas.
Fish cartilage extract is a substance used to treat many diseases. Is applied in the fight against cancer, increases immunity, has a positive effect on arthritis, psoriasis, speeds up the healing of wounds, treats intestinal inflammation and damage to the retina of the eye due to diabetes.
Plant proteins in Laminine, come from the extracts from marine plants and yellow peas. These proteins positively influence the production of bile and reduce the risk of irritable bowel syndrome and diverticular disease of the intestines. Yellow peas also provides valuable protein, B vitamins and essential minerals. It also contains isoflavones, which reduce the risk of breast cancer and prostate cancer as well as stabilizes blood sugar levels. Studies have shown that in the case of type 2 diabetes, yellow peas reduces the level of cholesterol, triglycerides and VLDL.