Androgenetic alopecia is commonly known as male pattern baldness. It is the most common type of hair loss that affects both men and women. This may be due to hormonal or hereditary factors. Are there any over-the-counter medications for male pattern baldness in the pharmacy?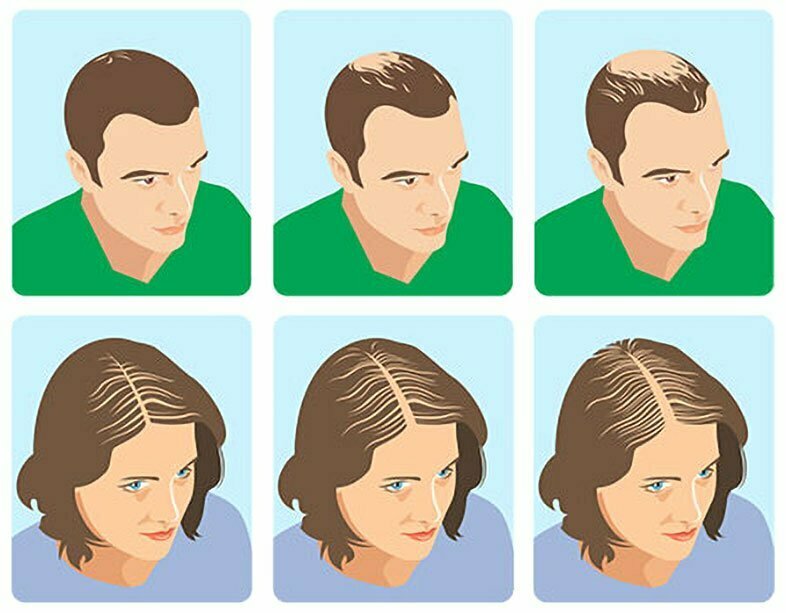 This disease affects white males more often than males from other ethnic groups. About 30% of men report hair loss at age 30, 50% at age 50 and 80% at age 70. In addition, androgenetic alopecia occurs in 13% of women in the pre-menopausal age, and after menopause increases significantly. About 50% of women aged 70 were suffering from hair loss.
Medicines without a prescription
Actually, the only medical product you can buy at a pharmacy without a prescription is Minoxidil. This product is approved by the FDA for the treatment of androgenic alopecia. Minoxidil is available as a water-alcoholic solution or foam and is intended for topical use. A preparation with a concentration of 2% is widely available, which is recommended for treating baldness in both women and men. The preparation with a stronger concentration (5%) can only be used by men.
Minoxidil treats baldness by increasing the blood supply to the scalp, which leads to better nutrition and strengthening the hair follicles. The effectiveness of this substance in the treatment of other types of hair loss is not well documented. However, there is information that people with alopecia are also noticed beneficial changes after using it. Minoxidil does not interact with other medicines. The most common side effects caused by long-term use of the solution are transient hypertrichosis and local itching or irritation. The product must not be used in damaged or inflammatory areas of the skin, and not more often than twice a day.
Where can I buy other preparations for hair loss?
There are many dietary supplements that help stop hair loss, and also stimulate hair follicles to produce new hair that is available in a pharmacy or supplement store. When choosing a product, read the ingredients. Effective formulas consist of vitamins, minerals and extracts of natural origin (nettle, horsetail, taurine, thiamine, zinc, copper, vitamin E, vitamin B6).
Can Profolan or Follixin be bought in a pharmacy? No prescription is required to buy this type of preparation. However, you can not buy them at any pharmacy. You only do it on the Internet. But remember to only choose supplements with a certificate of originality. To be sure that the product is safe, it is best to buy in the manufacturer's online store.
Write if you know medicines or dietary supplements that you can recommend to others. Or maybe you regained your hair thanks to some way? Share your knowledge with us!